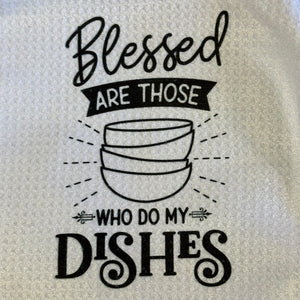 Blessed are Those Who do my Dishes Tea Towel
Dishes stink, sure... but those who do 'em for us are a real godsend! This Blessed are those who do my dishes tea towel is the perfect way to encourage those around you to get some help! 
This tea towel is written in all black. "Blessed" is in a cursive font at the top. Underneath is a black ribbon with the words "ARE THOSE" in white across it. Beneath is an outline of 4 bowls stacked. Under the bowls is the words "Who do my" and the final line saying "DISHES".
The design is created using a process called sublimation, a permanent ink transfer. As such, it will not come out in the wash nor fall off at all. 

A waffle weave style towel measuring approximate 16-17" x 23-24", with the design in the bottom right quadrant.